Poster, 1962, by Nina Vatolina. The text reads: 'Peace, Labor, Freedom, Equality, Brotherhood, Happiness.'
Imagine a world where a powerful global entity, leader of a worldwide bloc of socialist nations, poured its intellectual, artistic, journalistic, and organizational resources into the fight against racism and national chauvinism.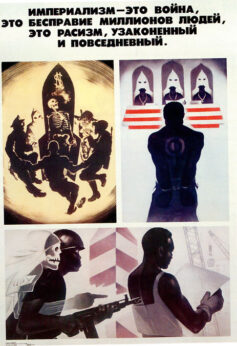 Such was the Soviet Era, 1917-1991, the USSR at first alone among nations, then joined by the Eastern European socialist bloc after World War II, and other countries such as China, Cuba, North Korea, Vietnam, as well as countless freedom and anti-colonial movements. Anti-racist imagery created and popularized in the Soviet Union influenced minds and attitudes across continents. A favorite target was naturally Jim Crow, segregation, lynching, and discrimination that were among the most visible features of life in the epicenter of imperialism, the U.S. of A.
We last met up with Yevgeniy Fiks as editor of a most fascinating Dictionary of the Queer International. A true polymath, born in Moscow in 1972 and trained as a painter of uncommon skill, he has lived and worked in New York City since 1994. Among his first projects in the United States was to create a stunning collection of portraits of Communist Party USA movers and shakers, celebrating on his canvases the unrecognized and unsung activists trying to make a difference against overwhelming odds. As a "post-Soviet" artist, his works build on research into Cold War narratives to explore the dialectic between Communism and "the West." Aside from the dictionary, others of his books include Lenin For Your Library?, Communist Guide to New York City and Moscow.
In his latest effort, he has gathered a garland of expert writers and thinkers in a project "Exploring Racial Imaginaries in Soviet Visual Culture." The imagery they consider in their purview is the so-called "Wayland Rudd Collection," a body of Soviet work amassed by Fiks that addresses race and multiculturalism.
Conceived and with a foreword by Lewis R. Gordon (no relation), The Wayland Rudd Collection includes contributions by Christina Kiaer, Christopher Stackhouse, Denise Milstein, Douglas Kearney, Jonathan Flatley, Jonathan Shandell, Joy Gleason Carew, Kate Baldwin, Marina Temkina, MaryLouise Patterson, Maxim Matusevich, Meredith Roman, Raquel Greene, and Vladimir Papery.
Who was Wayland Rudd?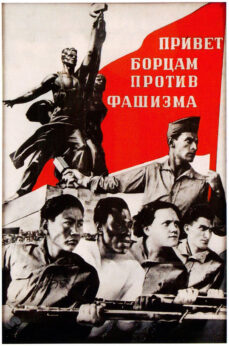 Born in 1900, Wayland Rudd made a series of stunning appearances as an actor at the boldly experimental Hedgerow Theatre of Rose Valley, Pa., about 12 miles west of Philadelphia. His first outing was in O'Neill's The Emperor Jones in 1929. His assumption of the role of Othello the following year marked what is called, in the book, "the very first time an African American had played the role for an American audience." By 1932, confronting a great wall of discrimination, with few roles available for him in those early Depression years, Rudd expatriated to the Soviet Union. There he worked in theater and film and modeled for paintings and posters. Except for one quick return trip to the U.S. in 1934, Rudd lived the rest of his life in the USSR, appearing in many Soviet films and theatrical performances, and entertaining troops on the front during World War II, until his death of appendicitis in 1952.
Using Rudd's personal story as a springboard, The Wayland Rudd Collection presents 150 Soviet media images of Africans and African Americans—mostly related to African liberation movements and civil rights struggles in the U.S.—along with reflections on this image archive by contemporary artists, writers, and scholars addressing the complicated intersection of race and Communist internationalism.
The three-page bibliography alone, works cited by the different authors throughout the volume, is an astounding résumé of important, little-known studies of the significant number of Black émigrés, visitors, students, workers, and travelers to the USSR, both from the U.S. and from the colonized world.
Unavoidably, this book also touches on a fascinating episode which some of its participants memorialized in their writings. In June 1932, poet Langston Hughes, activist Louise Thompson, and 22 other African-American artists, filmmakers, and actors, journeyed by invitation to the Soviet Union with a specific objective to create a film about Black life in the American South. What they found when they arrived was a script utterly untrue to their experience, and expectations that they would play what they considered stereotypical roles as singers and dancers. Though they appreciated the Soviets' initial impulse, they worked for months trying to construct something they could stand by, but by then it was too late and the project got canceled.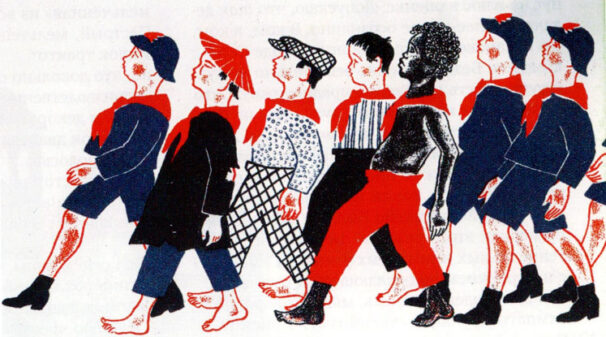 What had become clear to them is that relatively isolated in the world, the Soviets, despite their good intentions, had a view of African Americans, and of Africans as well, as childlike and intellectually challenged—nakedly "primitive," in other words. The Negroes they depicted in the early years were curly-headed naïfs with broad smiles and big bright teeth.
It was only after the American Communist movement showed them that Blacks were increasingly part of the industrial working class that the imagery transformed dramatically—now to determined, muscled men with sledgehammers smashing the chains of exploitative capitalism—also, perhaps, a caricature, but more in keeping with the militant proletarianism of the era.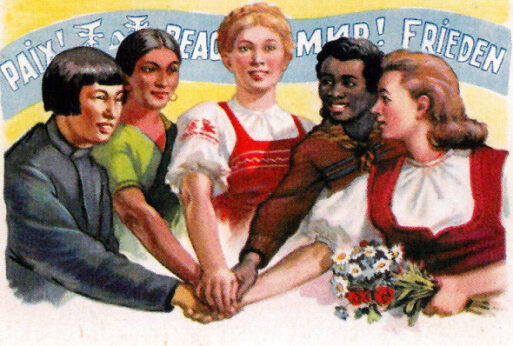 In many cases, the artists were known figures, not mere anonymous draftsmen churning out their assignments, and several articles in the book go into their careers with some detail.
Uplifting as many of these images are, inclusive of both men and women, and representative of the rising forces in Asia, Africa, Latin America, and Black America, a number of uneasy assumptions prevail. The Russian Revolution, with Lenin as its leader, is portrayed as the inspiration for all the workers' and oppressed peoples' movements. And where there's a phalanx of purposeful marchers with faces and costumes from around the globe, almost inevitably it will be the white Russian man (or woman) in the lead or at the center to whom the eye first turns. The writers commenting on the collection can hardly overlook this troubling contradictory feature, even as the imagery intends to speak of egalitarianism under the Communist ideal. Still in evidence is the "othering" of non-white peoples, and non-Russian as well, as many citizens of the sometimes restive constituent republics of the Soviet Union could attest. Students in the USSR from the colonial or post-colonial world, as much as they learned and benefited from university-level training in any number of fields, did not always feel free from such chauvinistic prejudice.
But these unconscious predispositions were not necessarily how such images were perceived at the time, especially once the Cold War battle of ideas was engaged. The Soviets constantly reminded the world of the racism running rampant in America, which in part explains why the U.S. State Department sent touring jazz groups there, and even a full stage production of Porgy and Bess.
This book has 216 numbered pages, but that does not count a gallery of 48 high-gloss, full-color images at the beginning. The text proper replicates many images under discussion, and in the back are 46 pages of full-color reprints of 150 images in the collection. This is a splendid, important, lovingly produced volume on a magnificent theme that treats its subject with deserved awe, respect, and honesty.
If Soviet imagery could be criticized from today's point of view, it also helped the socialist bloc at the time affirm that capitalism—imperialism at this stage—was not the only system possible in the world. I'll leave the last word to Allison Blakely, professor emeritus of European and Comparative History from Boston University: "The combination of graphic imagery and contextualizing essays makes this book an excellent introduction to an earlier episode in the long struggle against anti-Black racism that is regrettably still not won."
Yevgeniy Fiks, editor
The Wayland Rudd Collection: Exploring Racial Imaginaries in Soviet Visual Culture
Brooklyn: Ugly Duckling Presse, 2021
262 pp., $40
ISBN 978-1-946433-27-5
Author: Eric A. Gordon is the author of a biography of radical American composer Marc Blitzstein, co-author of composer Earl Robinson's autobiography, and the translator of a memoir by Brazilian author Hadasa Cytrynowicz. He has received numerous awards for his People's World writing from the International Labor Communications Association. His latest project is translating the nine books of fiction by Manuel Tiago (pseudonym for Álvaro Cunhal) from Portuguese, the first volumes available from International Publishers NY.
Source: People's World, February 4, 2022, https://www.peoplesworld.org/article/the-wayland-rudd-collection-when-state-power-was-harnessed-to-combat-racism/