A woman cries while waiting along with others for distribution of food products in the village of Motyzhyn, Ukraine, which was until recently under the control of the Russian military, April 3, 2022. | Vadim Ghirda / AP
There were reports in various media outlets Sunday that Ukrainian officials claimed to have found a grave containing 280 bodies in the town of Bucha, a suburb of Kiev, after Russian troops pulled out of the area. Today they have revised that figure to 40 found in the alleged mass grave.
After being kept out of Bucha for the duration of the occupation and for several days after the Russians left, the Associated Press and reporters from other outlets were shown a number of bodies in Bucha dressed in civilian clothes, with some having their hands or legs bound. AP reporters counted at least nine bodies in a freshly dug grave in the town and others in streets and apartment buildings.
AP and the other outlets allowed in by the Ukrainian government say they have no independent verification of the causes of death nor can they, themselves, confirm those causes.
The horrors of mass graves in wartime haven't been a feature of European history since the 20th century genocides of World War II and the later NATO war against Yugoslavia.
The Russian invasion has resulted in well over a thousand deaths of innocent Ukrainian civilians, including children, according to the U.N., which says its figures are likely very low.
The gruesome discovery, according to Ukraine, was made after Ukrainian troops retook control of Bucha from Russian forces.
"In Bucha, we have already buried 280 people in mass graves," Mayor Anatoly Fedoruk said Sunday.
"All these people were shot, killed, in the back of the head," he said, adding that a 14-year-old boy was among the victims.
The Ukrainians released additional photos of bodies lying in the streets of Bucha which, they say, were of people shot by retreating Russian units, driven out of the town by Ukrainian forces. The Russians claim their troops were being fired upon even as they were trying to retreat.
Ukrainian forces claim they were unable to recover bodies from the street amid fears that they had been booby-trapped. No cell phone or other video or photographs taken by people when the alleged crimes were actually being committed have yet surfaced. There is as of yet no independent verification of how the bodies got strewn in the middle of the streets.
All of this, however, does not disprove either Ukrainian or Russian government claims. All it does is strengthen the position of those who exercise cautionary skepticism when receiving any U.S., Russian or Ukrainian reports on events.
The Russians deny the reports that their troops are responsible and say that armed Ukrainians had been shooting people at random during the occupation and when they were leaving. Again, there was no independent verification of these claims either.
The town was occupied by the Russians soon after the launch of the invasion of Ukraine on February 24.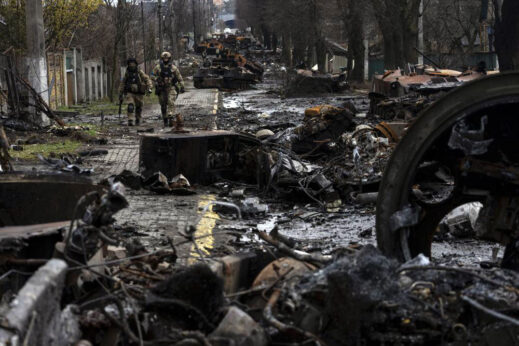 Fierce fighting was reported on the streets of Bucha, but Russian troops eventually withdrew after Moscow announced it was "scaling back operations" around the Ukrainian capital to focus elsewhere in Ukraine, particularly in the south and west.
E.U. foreign policy chief Josep Borrell congratulated Ukrainian forces on the "liberation" of the town of Bucha and on the "liberation of Kiev." He condemned what he called "shocking atrocities" by the Russians.
"All cases must be pursued, namely by the International Criminal Court," he declared.
While the U.S. is more than ready to castigate Russia for war crimes, it is notably refraining from joining Europeans in calling for an investigation by the International Criminal Court. The U.S., concerned about its own war crimes all around the world, has never recognized the validity of that court, which could be working overtime if it had to investigate U.S. war crimes. Notably, both China and Russia have also not recognized the validity of that court.
Germany seems to be joining the U.S. in demanding action be taken against Russia for its role in the war. It is doing this after sharply increasing the amount of money devoted to its military.
German vice-chancellor Robert Habeck said that he was speaking to E.U. ministers about increasing sanctions on Russia following the reports of the mass grave.
"This terrible war crime cannot go unanswered," he said.
Russian air strikes, meanwhile, hit southern ports including Odessa, Mykolayiv, and Mariupol Sunday, taking out oil installations and other infrastructure.
Moscow has dismissed reports it has targeted civilians as fake, including the discovery of the mass grave. They are demanding an emergency meeting of the UN Security Council where they say they will debunk Ukrainian claims about the alleged massacre.
On Saturday, Kremlin press secretary Dimitry Peskov described Ukraine as a "hostile country" which has "allowed fascism to flourish in towns like Bucha, resulting in sanctioned killing by fascists of civilians suspected of not supporting the Ukrainian government."
Back in Russia, there have been reports that opposition to the war has been decreasing with over 80 percent of those polled saying they support Putin's war policy in Ukraine. It is unclear how much of this "support" strong government control of the press and sweeping arrests of anti-war demonstrators. Both Russia and Ukraine have shut down independent and opposition newspapers and outlets.
The Morning Star, Britain's socialist daily newspaper, reported this weekend an incident reflecting apparent Russian government disapproval of literary giant Leo Tolstoy, seen by Vladimir Putin as too much of a pacifist.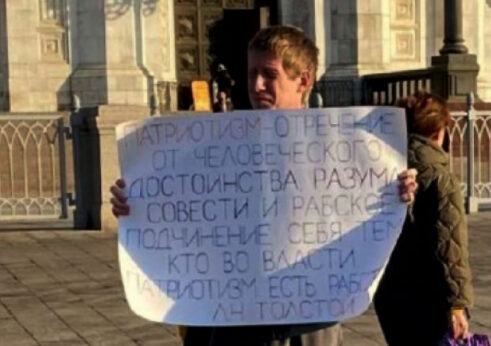 Russian police have tried to justify the arrest of a man who was holding up a quotation from Tolstoy, saying that the novelist's anti-czarist views meant that his act should be interpreted as incitement to "overthrow the existing authorities," Morning Star reported this weekend.
The famous author of War and Peace and Anna Karenina, who died in 1910, was a pacifist whose advocacy of non-violent resistance was an influence on Martin Luther King and Mahatma Gandhi. A Russian police report on Saturday's arrest of Alexei Nikitin in Moscow said, however: "This writer's (Tolstoy's) works and articles were harshly critical of the ruling (Czarist) regime, including for justifying violence."
Nikitin's placard quoted Tolstoy as saying: "Patriotism is the abdication of human dignity, reason, and conscience and a slavish submission to those in power. Patriotism is slavery."
After citing Tolstoy's anti-government views, the police statement continues: "Therefore, the actions of Citizen Nikitin should be interpreted as a call to overthrow the existing authorities and also to follow the ideology of Tolstoy."
Since Russia's invasion of Ukraine began on February 24, thousands of people have been arrested for protesting against the war or taking actions interpreted as doing so.
Meanwhile, it is hoped that the latest reports on the situation in Bucha will not serve to derail peace talks between Ukraine and Russia, scheduled to resume Monday. Last week, both sides made progress despite the continued fighting.
Negotiators say that compromise is possible on NATO membership, neutrality for Ukraine, and the status of the breakaway republics in the Donbass and Crimea.
Russia had warned last week that Ukrainian attacks on an oil depot inside Russia could endanger those talks, but, at this point, they are expected to continue this week.
Advocates for peace note that every time progress is reported in the ongoing diplomatic talks between Ukraine and Russia, there emerge new reports of violence and atrocities in the war that lend support to politicians that say no peace is possible and that the only thing that can be done is increased arming of Ukraine by the U.S. and more sanctions against Russia. Significant numbers of members of the Ukrainian parliament hold to this position as do pundits who are regulars on U.S. cable TV stations.
Ukrainian President Volodymyr Zelensky has been warned by right wing forces in his country that they will not accept major concessions to the Russians. The Azov Battalion, a neo-Nazi formation, has said that the Ukrainian government headed by Zelensky can expect to be toppled if it makes any compromises unacceptable to that group. Some of the right-wing groups have threatened Zelensky with death if he goes, in their estimation, too far in proposing compromise.
In Ukraine, Russia, and around the world, however, there are many people who are hoping that real progress will continue to be made in the peace talks. Zelensky said this weekend that direct talks between himself and Putin could be on the horizon.
John Wojcik is Editor-in-Chief of People's World. John Wojcik es editor en jefe de People's World. He joined the staff as Labor Editor in May 2007 after working as a union meat cutter in northern New Jersey. There, he served as a shop steward and a member of a UFCW contract negotiating committee. In the 1970s and '80s, he was a political action reporter for the Daily World, this newspaper's predecessor, and was active in electoral politics in Brooklyn, New York.
People's World, April 4, 2022, https://www.peoplesworld.org/