Today, Starbucks workers and their allies were out in front of over one hundred stores across the nation, explaining to customers that union-busting not only hurts workers, but customers too.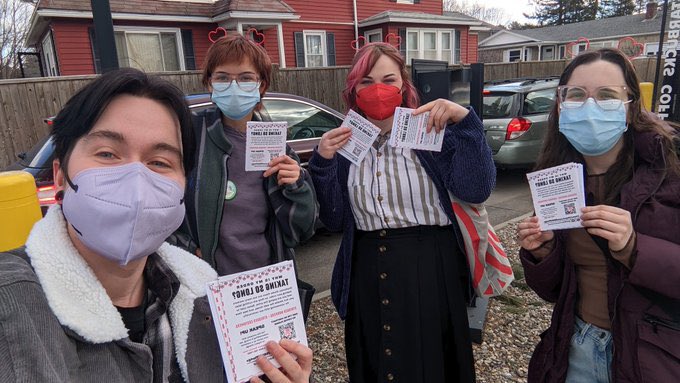 They informed customers about the impact of the company's reduction of labor hours on customer service and working conditions. This, they explained, was the reason for the longer wait times customers are experiencing. They asked customers for their support, requesting that they sign the "No Contract, No Coffee Pledge."
Customers received flyers that stated, "Starbucks thinks there are too many workers making your order, so they are cutting labor and you are paying the price. Same cost to you, but double the wait times, and less time connecting with our community."
Handing out flyers outside the Starbucks store on Congress Street in Portland, Maine, Starbucks Workers United (SBWU) supporters said that their interactions with customers and other passersby were overwhelmingly positive.
Valentine's Day may be all about "sharing the love," but today Starbucks workers and allies decided to share with the people "the love they lack from the company whose profits are soaring."
"Starbucks is cutting labor hours despite record breaking profits year after year," according to a recent SBWU statement, "[t]his causes workers to be financially stressed and overworked, and it causes customers to experience significantly longer wait times. We're asking customers to stand with the over 7,000 baristas who have joined Starbucks Workers United as we fight this retaliation."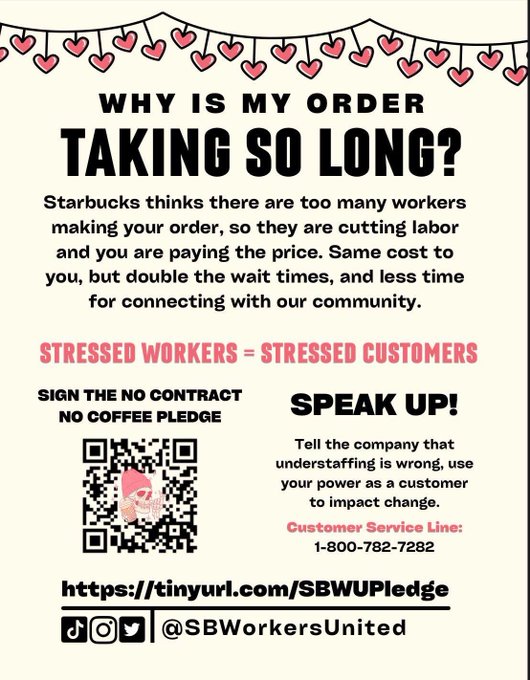 The SBWU is making good on its promise to increase its efforts to enlist the company's customers as allies in its nationwide organizing drive.
The SBWU is asking supporters to sign this pledge:
https://crm.broadstripes.com/ctf/SJID0H
---
Starbucks Workers United